Morriston Hospital hepatitis B: Family plea after death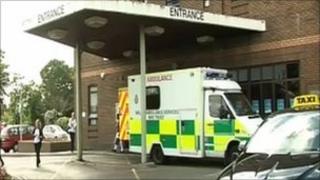 The family of a hospital patient who contracted hepatitis B and died have called for swift action to identify others who could be affected.
Her relatives have lodged a complaint, and 150 patients who had heart surgery at Morriston Hospital in Swansea have been told they may have been exposed.
Managers have launched an inquiry.
They say there was a "low risk" involving patients who had surgery at the cardiothoracic unit between 11 March and 17 April.
The Abertawe Bro Morgannwg (ABM) University Health Board and Public Health Wales are carrying out an investigation and have commissioned an external review.
They say transmission from staff and family members has been ruled out, adding "it is therefore likely that the virus had been indirectly transmitted from another patient at the cardiothoracic unit, who was known to be hepatitis B positive".
Hepatitis B is a viral infection of the liver spread through blood and body fluids.
In a statement, the family said: "Our immediate concern is that the health board does everything possible to identify anyone else that may be affected; to offer them appropriate care and treatment; and to identify how the virus was transmitted.
"We also welcome the health board's statement that it intends to commission an external review.
"We acknowledge the genuine media interest in this case, but hope that we can be left alone at this time to grieve."