Swansea factory tyre fire finally over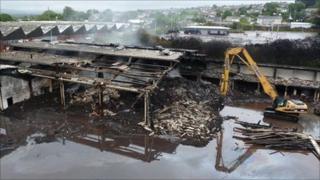 A fire that has been burning for more than three weeks at a factory in Swansea used to store shredded tyres has been finally put out.
Around 5,000 tonnes of rubber has been alight at Fforestfach since 16 June.
The former Mettoys factory was largely demolished so fire crews could remove the burning waste before immersing it in large water-filled tanks.
Firefighters said it was the first fire of its kind in Wales and had presented challenges they had not faced before.
Group manger Roger Thomas of the Mid and West Wales Fire and Rescue Service said: "This was a very complex fire which has posed a number of unique challenges for the agencies involved.
"Similar fires elsewhere have burned for many months because the burning material is so difficult to extinguish.
"It would have been impossible to extinguish this fire using traditional fire-fighting techniques.
"We had to develop new methods to extinguish the fire.
"This has been a fantastic team effort and by working collaboratively in such an effective way we have resolved this incident much quicker than we first anticipated."
He thanked nearby residents and businesses for their patience.
Officers from Swansea council and Environment Agency Wales will remain on-site to carry out a clean-up operation.
Jorg Hoffman, a consultant in health protection at Public Health Wales, said: "We are very pleased that the fire is out and the exposure to the smoke plume has come to an end.
"The advice for residents is to continue washing any food produce from gardens and allotments in the affected areas.
"The recent heavy rain may have helped to wash away significant amount of soot deposits."
The remaining extinguished waste will be transported off-site during the early part of next week and will be temporarily stored at Tata Steel's secure landfill facilities at Margam.
The cause of the fire is being jointly investigated by police and the fire service.