New newspaper launches in Pembroke and Pembroke Dock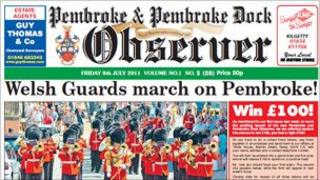 A new paid-for weekly newspaper has launched in Wales bucking the trend of title closures.
The Pembroke and Pembroke Dock Observer is published by the nearby Tenby Observer, part of the Tindle group.
Several weeklies in Wales have closed in recent years, all dailies have seen a fall in circulation and one group has stopped employing street vendors.
A media consultant says Tindle papers are successful because they concentrate on ultra-local community news.
Around 1,500 copies were printed for the first edition of the new title which general manager Andrew Adamson said sold out in several newsagents.
He said the Tenby Observer, which employs 15 staff, had always tried to carry news items submitted by people in Pembroke and Pembroke Dock and the volume of contributions had increased.
"That got us to the point where we started to look if there was a demand for this and we said 'let's provide it and see what happens'," he said.
He said circulation figures of newspapers in Pembrokeshire had held up well compared to many of the other parts of the UK and that had also helped give them the confidence to launch the title.
The whole of the county is served by the Western Telegraph newspaper but Mr Andrews said Pembroke and Pembroke Dock did not have a dedicated title.
"The Western Telegraph is a fantastic paper but it physically cannot cover all the smaller community stories."
He said the Observer also covered the type of "parish pump" stories that could not be found on the internet - which has been blamed in part for the national decline in newspaper sales.
'Old fashioned news principles'
Media consultant Robert Lloyd, a former editor of the Carmarthen Journal and Llanelli Star, said Tindle papers operated differently from those owned by the larger media groups such as Trinity Mirror, Newsquest and his former employer Northcliff.
"Ray Tindle specialises in these very old fashioned small newspapers with sales of between 6,000 to 10,000," he said.
"They are profitable and have a loyal readership because he believes in the old fashioned news principles of names, faces and places.
"They receive a lot of contributions from readers so they operate with a fairly small editorial staff.
"It's all the community life that's fit to print from Mr Jones's death to the local WI to school sports days.
"You read the WI reports and they go into the detail of the flavour of jam they made.
"The larger corporations have distanced themselves a bit from their readers by closing offices, centralising production, cutting editions and I think they are missing a trick."