John Lewis 'talks over opening Swansea store'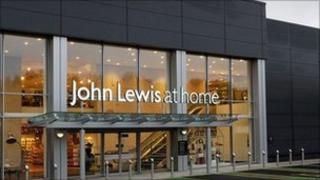 Retail giant John Lewis is in talks about opening a store in Swansea city centre, BBC Wales understands.
The firm is thought to be discussing a deal with developers Hammerson to build an "at home" store at Parc Tawe, which has been earmarked for redevelopment.
Such a move would be welcomed by traders who say the city centre needs regenerating.
But Hammerson said it was not in active discussions with John Lewis, while the company itself would not comment.
A John Lewis spokesperson said: "John Lewis is often linked to new developments and available sites, however, we don't comment on market speculation."
Hammerson said it talked to a lot of retailers and were not in active discussions with John Lewis about a store in Swansea.
The news came on the day Swansea council held an extraordinary meeting called by councillors in a notice of motion.
They, along with traders who claim the city centre is in a "dire" state, want to see the council put forward proposals to regenerate the city centre.
Swansea has struggled to find a way of successfully regenerating it following the collapse of the long-time proposed Castle Quays development in 2004 which suffered several false starts.
It also lost the David Evans department store with the resulting shopping centre built on the site still not fully let, although the Salubrious Place project at the bottom of Wind Street has been successful.
The SA1 waterfront development on the east of the River Tawe and the 29-storey Meridian Tower block on the seafront are thriving, as are out-of-town complexes in Fforestfach and Morfa.
£1bn regeneration
But what has added to Swansea's city centre retail problems is the opening of the £675m St David's shopping centre in Cardiff two years ago - where John Lewis is the anchor tennant - which attracted 36m visits in its first year.
Swansea council appointed Hammerson in 2008 to look after the £1bn regeneration of the city centre to include the St David's, Quadrant, Paxton Street and Parc Tawe developments.
The firm, which are behind Birmingham's Bullring and Cabot Circus in Bristol, have helped bring the £32m boulevard scheme to fruition.
In his report to Thursday's meeting, Swansea council chief executive Jack Straw said: "The Council and Welsh Government have worked closely with Hammerson since their appointment but despite significant pre-development work being undertaken, the onset of the financial crisis and recession has prevented commencement of the proposed scheme in Swansea city centre.
"This is largely due to the absence of anchor store interest. Since the financial crisis, this trend has been replicated across the UK with only committed pipeline schemes being progressed.
"Hammerson have recently restated their commitment to Swansea but have recognised that progress depends crucially on economic conditions."
The John Lewis at home format was launched in 2009 and focuses on furniture, furnishing accessories, electrical and home technology.
Customers can also order products from the firm's website within the store and use a click and collect service to receive them.
The first store of this type opened in Poole, Dorset and other stores are open in Croydon, Tunbridge Wells and Swindon with plans to open in Tamworth, Chester, Ashford and Newbury by the end of next year.
Swansea council have also been contacted for a response.