Swansea's Vetch Field still not attracting interest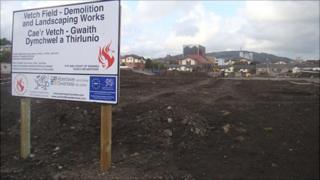 There is still no interest in the site of Swansea City FC's former home, the Vetch Field, despite £700,000 being spent to demolish the ground.
The club moved to the Liberty Stadium in 2005 but Swansea council struggled to find a developer for the Vetch.
The council received a grant from the Welsh Government this year to flatten the site in the hope of attracting interest, but has failed to do so.
Council leader Chris Holley said it was "very disappointing".
The Vetch had been the Swans' home since 1912 until its final game in 2005, when fans grabbed pieces of the hallowed turf or snatched seats as keepsakes.
The site laid dormant since then and was initially put out to the marketplace in late 2009 but the economic downturn was blamed for lack of interest from developers.
Plans
Plans for the site in the Sandfields area of the city, included building 120 two, three and four-storey homes, a play area and a community centre.
Mr Holley said: "We hope a landscaped site and an upturn in market conditions will pave the way for redevelopment and a scheme that meets the aspirations of the nearby community.
"But we're also looking at what could be done at the Vetch site in the short-term once the landscaping is complete and hope to make some decisions on that this summer."
He added: "We are looking at ways with developers but there's little value in the land."
But Mr Holley ruled out giving the land away for free.
In February, there were calls for the site to be used for allotments once landscaping was completed until a developer was found.
A council spokesman said at the time: "Any project of this nature would have to be temporary as the site is intended for redevelopment."