Swansea ChildLine centre to close in August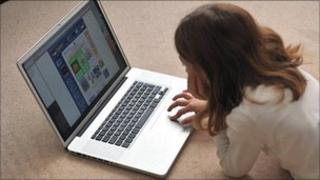 The ChildLine call centre in Swansea is to close in August with the service being moved to Cardiff offering online counselling only, the NSPCC has said.
The last shift will be on 31 July and the base will close at the end of August.
ChildLine director Peter Liver claimed the service will not be affected.
But volunteers, staff and politicians say the closure would result in a diminished service for vulnerable young people who rely on it.
'Dismayed'
One volunteer, who could only be called Steph, said: "We are dismayed, despressed, absolutely stunned by what's happened.
"We had hoped, having been invited to give in a counter proposal, that the NSPCC would take it seriously and look at the issues we raised.
"Judging by what's been sent to us this afternoon, it doesn't seem any of those issues have actually been considered seriously."
She added: "We feel children already waiting to be spoken to by counsellors will be waiting for longer periods.
"At every twist and turn of this process, we've come up against is costs.
"We need to be more cost-effective and our feeling is this change is not being driven by the need of the children, it is actually being driven by costs."
Earlier this year the NSPCC, which runs the counselling service, announced changes that also included closing the bases at Edinburgh, Exeter and Leeds.
Others such as Cardiff will be expanded but overall around 400 volunteer counsellors would lose their jobs, about 130 of them in Swansea.
Labour AM Julie James said: "We're concerned that disadvantaged children won't be able to access this service online.
"We're also concerned that the internet is a very dangerous place for children anyway."
UK government funding for the helpline services is being cut from £30m last year to nothing by 2016.
But ChildLine director Peter Liver insisted the proposed changes had nothing to do with money.
'Counselling services'
"ChildLine provides free, 24 hour, confidential support to all children and young people wherever they are in the UK and however they want to contact us," he said.
"We face growing demand for help and need to adapt to the changing needs of children so we can help more of them.
"To achieve this, we have undertaken a comprehensive consultation and have carefully considered the views of staff, volunteers and supporters.
"As a result, we will be relocating the service in Swansea to the NSPCC Cymru/Wales national centre in Cardiff, where we will offer online counselling only.
"We will also increase the number of ChildLine volunteers in our remaining centres over the next five years.
"Their roles will be expanded so by 2016 we will be delivering significantly more counselling hours in the most cost-effective way.
"The service will not be affected in any way. The telephone helpline service is always available for children who prefer to talk on the phone."