Carmarthenshire council may web stream its meetings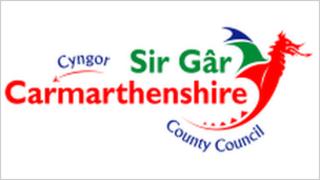 Carmarthenshire council says it is considering showing videos of meetings on its website.
The authority was criticised earlier this month after a blogger was arrested for filming a council meeting.
It said filming was not allowed in its chamber, and police were called after Jacqui Thompson refused repeated requests to stop.
The idea of webstreaming comes as part of a review to use new technology to provide services to the public.
"We looked at doing this several years ago but at that time the number of people with broadband speeds capable of viewing video over the internet was very low, and the cost of installing the technology was quite high," said assistant chief executive, Chris Burns.
"However, as technology has moved on this has become more feasible and the committee will consider whether this would now be a worthwhile investment."
Mr Burns said the website received around 9,000 visits every day and the council was also making use of social network sites like Facebook and Twitter to communicate with the public.
Petition
Earlier this month, Mrs Thompson opened a petition on the Welsh assembly's e-petition page calling for all councils to be required to make recordings of their meetings available on their websites.
The petition also calls for members of the public to be allowed to record or film meetings and to be able to re-use the material freely.
Mrs Thompson, from Llanwrda, was arrested for using her mobile phone to film the handing over of a petition over the closure of a day centre in Llandeilo.
Rene Kinzett, Conservative group leader in Swansea complained to Dyfed-Powys Police following the incident.
Mr Kinzett, who had previously been involved in a row for using Twitter during Swansea council meetings, had said the issue was of "real importance".
"As long as the filming itself does not interfere with the good order of the meeting, then there should be no objection to a taxpayer filming the proceedings of those we elect to spend hundreds of millions of pounds of our money at a local level," he said.