McDonald's litter costs Newport man £800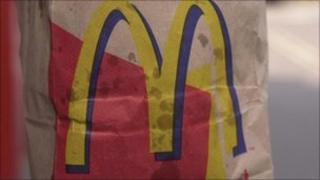 A man must pay over £800 after ignoring a fine for throwing rubbish at a McDonald's car park in Carmarthenshire.
Council officers say they saw the 43-year-old from Newport drop the litter from his car at the fast food restaurant in Cross Hands.
He was initially issued with a £75 fixed penalty fine.
But Carmarthenshire council said he failed to pay up and magistrates have now fined him £350 with a further £474.71 in costs.
The council, which brought the prosecution, said it hoped it would act as warning to others.
It said environment officers saw the man, who was sitting in a car, open a door and throw "wrappers and packaging" on the floor.
The authority recently ran a county-wide campaign, supported by McDonald's, to encourage people to dispose of their litter responsibly.
Executive board member environment Philip Hughes said: "We work closely with McDonald's and other fast food restaurants and we would like to thank them for supporting our campaign.
"The council is determined to clean up the county and prosecute those that break the law, but we cannot do this on our own."
The case has also been welcomed by the fast food chain.
McDonald's Wales spokesman Marcus Crossman said: "We share the frustrations of the vast majority of our customers who take pride in their local community and want to see an end to litter in their streets and parks.
"That's why we send out daily litter patrols to help keep local areas clean and tidy and support a range of initiatives across Carmarthenshire."