'Ambassador' plans to revive Swansea city centre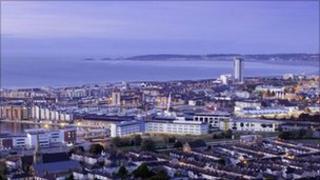 The man charged with helping revive the centre of Swansea has called for a car parking overhaul and zero tolerance on fear of violence.
Coun Richard Lewis, who recently finished his term as lord mayor, has been made an "ambassador" of the city centre.
He will act as a direct link between traders and Swansea council leader Chris Holley, who set up the role.
Traders have said the city centre is in a "dire" state.
"Talking to people is fine, but we've got to deliver," said Mr Lewis, who has spent many years as a city centre trader himself.
"The leader Chris Holley recognises the problems that traders are facing and we are there to help them.
"Everything I've done in the past, I've delivered."
Traders have blamed roadworks, high rent, parking and drugs for problems in the city centre.
Mr Lewis has made parking and fear of violence his priority.
'Major flaws'
He said previous surveys showed there were 7,000 too few parking spaces in the city centre, which has just 3,000 spaces available although more can be created with "decking" on existing car parks.
"We've got to attract people to the city centre and I think parking is one of the major flaws," he said.
"We raise £3m from car parks, but over the years nothing has been reinvested in new car parks.
"There should be 10,000 spaces but we only have 3,000. There are three NCP car parks in Swansea but we control the rest."
Swansea council has announced its High Street car park would charge £1-a-day for a four-hour stay from 1000 BST as a trial from next month.
But Mr Lewis said the move did not go far enough.
"We've got the opportunity of charging less," he added. "We've got to look at car parking for £2 all day everywhere.
"The parking has got to be near the city centre and in easy walking distance to the city centre."
He also said the centre faced competition from out-of-town shopping complexes in close proximity including Morfa, Fforestfach and the enterprise zone.
He said he wanted the city centre to be a place people enjoyed coming to.
Fear of violence
"I hosted a function at the mayor's house earlier this year where we had the Federation of Small Businesses here," said Mr Lewis.
"They were telling me about the intimidating behaviour of people in the city centre. It's not actual violence, but a perceived threat.
"I think the police need to bring in a policy of zero tolerance in the city centre and more police officers in and around the city centre on patrol.
"We've got to get back to basics. Zero tolerance is what I've always advocated.
"The police in fairness to them have put a lot more effort into High Street and it's made a difference."
Other initiatives Mr Lewis wants to start including a Welsh food festival.