Swansea city centre cut-price parking boost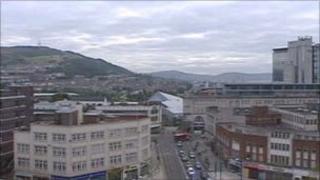 Shoppers and traders in Swansea are to receive a boost with a cut-price parking offer in a bid to lure more people into the city centre.
From July, the cost of a four-hour stay after 1000 BST in High Street multi-storey car park will be slashed from £4.50 to £1.
The scheme will run until November and council leader Chris Holley said it could be extended if successful.
But he "did not know" how much the move would cost the council in lost revenue.
"I think the traders and a lot of people in the city centre were looking for this type of thing," he said.
"Swansea city centre has a great range of independent traders and high street stores and the council's car parking offer is another reason why people should come here to shop."
Traders have claimed the city centre is in a "dire" state, and the council is preparing a report on all aspects of the city centre which will be discussed at a special meeting on 7 July.
The cut-price parking is not part of the report.
'Attractive and competitive'
It follows discussions between the council and the Swansea Business Improvement District group (Swansea BID).
"All towns and cities are feeling the economic squeeze with people having less disposable income to spend in shops," said John Hague, the council's cabinet member for environment.
"In Swansea, the council has ongoing discussions with Swansea BID to help make the city centre as attractive and competitive as possible so that we can encourage people to shop there.
"This offer is great news for shoppers and traders. There can't be many comparable city centre car parks anywhere in the UK where you can park for up to four hours for just £1."
'National brands'
Russell Greenslade, Swansea Bid chief executive, described the news as "positive".
"I am very pleased Swansea council has listened and taken on board the comments of our 800-plus members in recent meetings," he said.
"Swansea city centre has an unrivalled selection of independent retailers and this, coupled with large national brands, makes us a great shopping destination.
"This car parking offer will help recruit even more people and shoppers to enjoy."