Swansea Bay Film Festival: questions about finances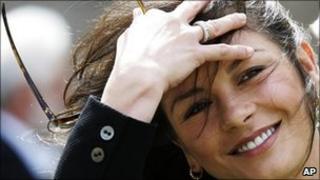 Questions are being asked about where income has gone from a worldwide string of film festivals run from Swansea.
Actors Catherine Zeta Jones and Michael Sheen withdrew support from the Swansea Bay Film Festival after complaints of poor organisation and facilities.
Swansea's Labour group leader David Phillips wants organiser Binda Singh to explain why Amritsa Ltd accounts were dormant.
Mr Singh declined to be interviewed or answer questions about finances.
The Swansea Bay Film Festival is one of a portfolio of 16 film festivals run by Amritsa in locations as diverse as Egypt, Australia, Thailand and St Lucia in the Caribbean, as well as England and Ireland.
They claim to provide a showcase for filmmakers whose work is overlooked by larger, high profile festivals.
Criticisms include poor organisation, a lack of publicity surrounding events and a lack of clarity around how award-winning films are chosen, as well as an absence of scheduling, programmes or film information, and poor quality screening facilities.
Canadian filmmaker Rhonda Zabinsky said she herself had to drum up an audience for a movie she was showing at an Amritsa-run event in South Africa due to a lack of publicity.
She told BBC Radio Wales' Eye on Wales: "I have never had an experience like this anywhere in my entire life.
"I travelled tens of thousands of miles to go to this film festival - I spent a lot of money to come to South Africa from Canada, and it was a bit of a shocker and an eye-opener.
"I feel absolutely duped; I feel suckered."
Californian filmmakers Steve Rosen and Terri de Bono were so unhappy about their experiences at the 2010 Swansea Bay Film Festival they made a movie called Looking for an Audience, which itself has been entered for film festivals.
In March Michael Sheen announced he was stepping down as vice-president of the Swansea Bay Film Festival, followed in April by Catherine Zeta Jones withdrawing her support as patron.
BBC news presenter Huw Edwards also quit as a patron of the West Wales Film Festival in Llanelli, another Amritsa event due to take place in August.
This year, the Swansea Bay Film Festival was relocated to Port Talbot where it took place in May.
A spokesman for Swansea council said it had decided in May 2010 that it would not be hosting the 2011 festival at any of its venues, in light of criticisms of the event and high-profile resignations by actors associated with it.
Mr Singh had previously used the Dylan Thomas Centre in Swansea to host festival screenings, and council officials were among those attending his festival gala dinners.
David Phillips, leader of the opposition Labour group on Swansea council, said there were still questions to be answered about the financial operation behind the festival.
He told the programme: "(Mr Singh) had a considerable amount of public authority support, both directly in kind, and in money terms for things like his dinner and so on, and the involvement of local authorities and other institutions in giving his film festival credibility.
"And in Swansea's terms, this was a disaster, and yet nobody seems to be concerned about finding out why or, indeed, asking what happened to all the money that went into it."
Her Majesty's Revenue and Customs said in a statement: "HMRC cannot confirm whether it is actively investigating an individual or company for operational reasons."
Mr Singh, who is also known for his work as a playwright and radio DJ, declined to be interviewed for the programme or to respond to questions surrounding the festival's finances.
He claimed that the onus was on filmmakers to publicise their films and find an audience, and that people enjoyed last month's Swansea Bay Film Festival 2011.
Mr Singh added that he welcomed "feedback" on his events so that changes could be made.
Eye on Wales is on BBC Radio Wales on Sunday 26 June 2011 at 1300 BST.