Llanelli residents' sofa demo over ex-offenders' hostel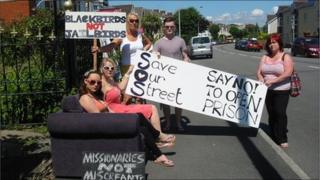 About 300 people have protested in Llanelli, Carmarthenshire, over plans for an ex-offenders' hostel.
Some hauled sofas into Queen Victoria Road in an attempt to block the highway, which was closed for about 30 minutes by police.
The vacant St Elli nursing home has been earmarked for the hostel, to house between 12 and 18 prison leavers.
About 200 people attended a public meeting on Wednesday, many angered that no planning permission is needed.
The Swansea-based charity Caer Las, which is behind the project, said it would listen to residents' concerns.
"Sant Elli is by no means a certain location for this project, being only one of a number of properties that we are currently exploring," said Andrew Templeton, head of human resources at Caer Las.
"At Caer Las, we take the concerns of the communities where any of our projects are situated, or may potentially be situated, very seriously.
"Once the final location has been identified, we will consult widely with the local community, listen to their concerns and address any issues they may have."
Mr Templeton said the creation of a hostel had been identified as a priority for the local authority and the probation service.
It is intended to help ex-offenders turn their lives around after leaving prison.
He added: "We have a strong and proven track record of safely housing and supporting people whose lives are affected by poverty, social exclusion and involvement in the criminal justice system."
His assurances did not deter protesters who gathered on Sunday afternoon.
Catrina Waldron, the protest organiser, said about 300 people turned up.
"Four sofas were also wheeled out to block the road.
She added: "It was very good-natured, it was almost like a street party.
"Drinks were served by the side of the road and motorists were stopping to sign petitions.
"The police there were extremely accommodating and closed the road for up to half an hour, and even joined us for coffee, squash and cakes.
"The splendid turnout shows the strength of feeling against this bail hostel."
She said a public meeting would be held on 6 July to discuss progress.