MP Geraint Davies urges action on Swansea city centre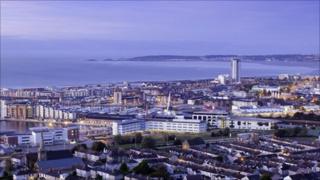 An MP says Swansea council needs to "pull its finger out" and revive the city centre by listening to traders.
Swansea West MP Geraint Davies believes councillors can shape its future and build the local economy.
But he said a shift of focus is needed to rid the city centre of claims by traders that it is in a "dire" state.
Council leader Chris Holley has said there are problems with the city centre, but argued that some are connected to the financial climate.
"The important thing is to move from the production line approach to the consumer-driven approach," said Mr Davies.
"Local traders want Swansea to sharpen up its act and image.
"That's why I've brought them together with council officers, the police, the local AM and councillors to thrash out short-term wins.
"That includes changing the parking charge regime, reviewing one way traffic and the number and sequence of traffic lights etc to improve access and traffic flows."
He added that the group is looking at an immediate makeover to the High Street to improve the appearance of shop frontages which may include hanging baskets, street furniture and involving the police to ensure confidence in a safe retail environment.
"The opportunity to deliver quick wins in Swansea's appearance, appeal and convenience is in hand whilst the strategic opportunities for new investment are taking shape," he said.
'Well positioned'
Mr Davies said Swansea was "well positioned" for retail investment and recovery, and highlighted the research and development investment Tata, Boots and Rolls-Royce are putting in to Swansea University's new second campus as evidence.
He added that Swansea City reaching the Premier League had put the city on the global tourism map.
"Swansea has got a very bright future," he added.
"The Swansea brand is now on the international stage and we need to take advantage of that.
"Around 600,000 people every week will hear the word Swansea [thanks to the football club]. It's a global player and an opportunity to attract investors."
Mr Holley last week admitted there were "a number of problems" with the city centre after the Federation of Small Businesses in Swansea Bay said it was in a "dire" state.
Criticism by city traders has been backed by Swansea councillors, who are urging a report proposing action.
But Mr Holley said some of those problems were related to the current financial climate and the reality was that Swansea is no different to any other UK city.
He said rundown High Street, which suffers from drug taking and dealing, drinking and anti-social behaviour, was going through a "major restoration".
He also blamed the out-of-town shopping centres like Fforestfach and Llanelli's Parc Trostre, as well as the £675m St David's shopping centre in Cardiff, for a drop in shoppers across the city centre.
Council opposition leader David Phillips rejected Mr Holley's claims that those who only want to complain are a "disgrace".
"The retail businesses are telling it like it is," said Mr Phillips, leader of the Labour group. "We won't get anywhere by burying our head in the sand.
"This is not about blame, but about working together to find a solution."
He added: "Among the ideas that my colleagues and I are proposing that the council urgently considers, are reducing the car parking charges across all city centre car parks and improving car park signage directing vehicles directly to the nearest one.
"We should use our powers as freeholder of most of the city centre to get intermediate landlords to reduce rents and work with the valuation offices to reduce business rates or at least secure some rebate."
Mr Davies also suggested using arts and culture as leverage for economic growth which "could be Swansea's unique selling point".