Blogger Jacqui Thompson angry at council filming arrest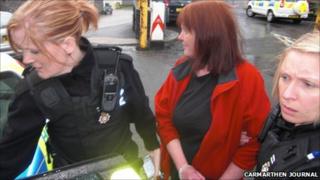 A woman arrested for filming a Carmarthenshire council meeting on her mobile phone claims police and council officials over-reacted.
Jacqui Thompson, 49, of Llanwrda, says she was led away in handcuffs and kept in custody for more than four hours.
She filmed part of the meeting for her local politics blog in which she has been critical of the authority.
The council said filming meetings was not allowed and it called police as Mrs Thompson refused requests to stop.
Almost 100 people have since left comments on her blog, including the Conservative group leader at neighbouring Swansea council, Rene Kinzett, who said he would be complaining to police about the way officers responded.
He was involved in a row for using the micro-blogging website Twitter during council meetings to comment on proceedings.
Mrs Thompson was arrested at a full council meeting as a petition was presented to councillors over the closure of a day centre in Llandeilo.
She started filming the meeting from the public gallery at County Hall in Carmarthen. The footage, which she has since posted on YouTube, shows Mrs Thompson being repeatedly asked to stop filming.
She replies: "I'm not doing anything wrong and I'm not disrupting your meeting."
The footage shows the meeting then being adjourned.
'Breaching the peace'
She told BBC Wales: "I was arrested as they said I was breaching the peace."
She said she was held at Llanelli police station until mid afternoon and only released without charge after she agreed not to film a council meeting again.
"It was very upsetting, very distressing. I think it was a dreadful over-reaction."
A community councillor, she has been writing her blog since 2009.
"I feel it is a public arena, they are there to represent the public, they are making decisions on behalf of their constituents.
"It's about accountability and transparency and I think they should be more open and can't understand why they should have problem."
She said she was determined to carry on with her blog and would be attending future meetings.
Dyfed-Powys Police said: "On arrival officers spoke to a 49-year-old woman but she refused to co-operate and she was then arrested to prevent a further breach of the peace."
She was later released without charge. Police directed any further calls to Carmarthenshire council.
In a statement it said: "Ms Thompson refused repeated requests to stop filming proceedings in the chamber which is not allowed.
"She then refused repeated requests to leave the public gallery.
"The chair was left with no other option other than to call the police to remove her from the gallery so that county council business could proceed."