Neath waste plant reopens after closure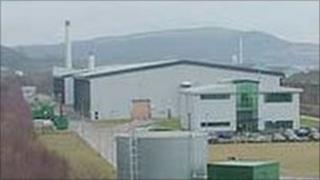 A waste incinerator which was voluntarily shut down after breaching its limit for emissions has reopened.
Environment Agency Wales has agreed that the council-owned plant at Crymlyn Burrows in Neath Port Talbot can restart its combustion unit.
It closed in December 2010 after air samples showed it had failed five out of 10 dioxin emissions tests.
The latest tests have found the emissions are now within the standards of the site's environmental permit.
The plant, which opened in 2002, processes household waste for recycling and incineration from Neath Port Talbot and Bridgend.
It is operated by Neath Port Talbot (Recycling) Ltd - a wholly-owned subsidiary of the council
Breaches were not ever at levels to cause health problems.
The EA work gave the go-ahead after operators completed an agreed programme of work to resolve dioxin emissions.
This has included extensive refurbishment and cleaning of the plant and equipment used to control pollution.
In the future operators will use an enhanced programme to monitor emissions and ensure standards are maintained.