Fishguard and Goodwick Station may reopen 50 years on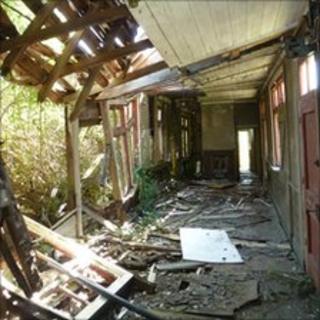 A railway station which closed almost 50 years ago may be reopened after a town secured five extra services a day.
A feasibility study is being funded to look at renovating the old Fishguard and Goodwick station although major work would be needed.
There are currently two trains a day to a station at Fishguard Harbour but extra trains will run from September.
It is argued reopening the old station will mean the new services will be better used.
The Welsh Government announced in March it would provide £1.4m funding for five extra trains to run to Fishguard every day from Monday to Saturday.
It followed a long running campaign to secure extra services which included an online petition organised by school pupils Sam Faulkner and Joanne Griffiths.
There have been calls to re-open the old station because there is limited parking at Fishguard Harbour and campaigners say it would be more convenient for passengers arriving by car, bus, bike or on foot.
After talks between Pembrokeshire council, the South West Wales Integrated Transport Consortium (SWWITCH), the Welsh Government, Network Rail and the train operator Arriva Trains Wales, funding has been secured for the study.
It will include track and platform surveys and designs will be developed for consideration by Network Rail.
The county council will also look at the possibility of providing car parking at the rear of the old station together with nearby bus stops.
Pembrokeshire council deputy leader Jamie Adams said reopening the station would be subject to the availability of funding.
He said: "Refurbishing the existing timber framed station building will be difficult as it is in very poor condition with significant sections beyond repair."
But he added: "The re-opening of the station will be a positive step for the communities of Fishguard and Goodwick and help attract passengers onto the new enhanced rail services."