Hollywood star Sir Anthony Hopkins backs drama centre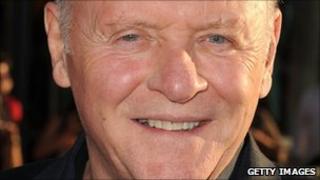 Sir Anthony Hopkins is behind a new stage and dance school in Port Talbot so children there have the same chance as he had getting into performing arts.
The Hollywood star, 73, is perhaps best known for his role as cannibalistic serial killer Hannibal Lecter in The Silence of the Lambs.
He grew up in the 1950s and 1960s performing at the YMCA drama group.
The Sir Anthony Hopkins Performance academy has been launched at the same building.
Local actor Matthew Rhys was asked to establish the academy at the YMCA after Sir Anthony found classes had stopped on a visit to his home town.
"He said it would be great to have that drama influence again back in the town - just kids to be given the opportunity he was given," said 27-year-old Mr Rhys.
"He was disappointed that the building wasn't being used in that way, so he thought why not set up some kind of academy."
Mr Rhys, a Rada-trained actor, said fellow Port Talbot Hollywood star Michael Sheen had also added impetus to the project, by staging his play the Passion, in April.
"There was a massive interest in the town to be creative," he added.
"I think after people felt 'what's next', 'let's carry on that legacy.'
"And especially the wealth of talent that's come from the area, and I suppose the kids want to be the next star - so it's great to give them that opportunity."
Student Lisa Jones is one of those hopefuls.
"I'm very excited," said the 17-year-old. "It gives me the inspiration to pursue acting.
"Knowing that Sir Anthony Hopkins started here gives me more of a drive."
A drama group was launched at the YMCA in 2009, with hopes of an academy, after a visit by Sir Anthony, and he sent a good luck message, saying: "The YMCA was the beginning of a wonderful journey for me, one which I'm still on."