Catherine Mullany fought off attack, Antigua trial told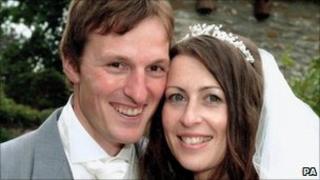 A woman shot dead on her Caribbean honeymoon may have tried to fend off an attack, a doctor has told a jury.
Catherine Mullany's body was found in a "defensive stance" at the Cocos Hotel and Resort in Antigua in July 2008.
Dr Oritta Zacharia told the trial of Avie Howell, 20, and Kaniel Martin, 23, at Antigua's High Court it appeared as if she had been in a fight.
They deny killing Mrs Mullany and her husband Ben, from Swansea Valley, and local shopkeeper Woneta Anderson, 43.
Dr Zacharia, who works for the Antigua's ministry of health, said Mrs Mullany was found in her bungalow at the resort in night wear with her new surname embroidered on it.
She said the 31-year-old had fresh bruising.
"In my opinion, she appeared to have been in a fight before she would have died," she said.
The doctor told the court she arrived at the resort at about 6.40am on 27 July 2008.
By the time she got to Mrs Mullany's body some rigor mortis had set in.
"She was lying on her back, her arms and legs were somewhat over her body in a defensive stance," she said.
"The body was rolled so that the back was exposed and she was wearing, at the time, a white pyjama set and on the back of the upper body there was a blood-stained area which was quite extensive.
"On the right side of her head there was a bullet wound. Her skin colour was blue-grey.
Bullet shell
"On turning the body, we also discovered a shell close to her feet - a bullet shell, that is.
"At the back, where there was a blood stained area, there were, embroidered, the words Mrs Mullany."
Mr Mullany, also 31, was taken to hospital and put on a life-support machine.
The court also heard from Mrs Mullany's brother, Richard Bowen, who identified a picture of his sister walking their parents dog in a field near their home in Pontardawe.
Another picture showed his close friend Mr Mullany trying on a wedding suit.
The couple were on the final day of their honeymoon when at least one gunman burst into their room at the hotel.
Mrs Mullany, a doctor, died at the scene of what appeared to have been a botched robbery.
Mr Mullany was critically injured. He was later transported back to Britain for treatment but was pronounced dead a week after the shootings at Morriston Hospital in Swansea.
The trial continues.