Pembroke Chevron refinery: Safety record 'exceptional'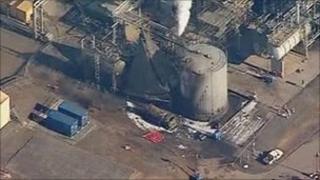 The safety record of a west Wales oil refinery where four contractors were killed in an explosion and fire has been defended.
An investigation is under way after a blast on Thursday in a storage tank at the Chevron plant in Pembroke.
Despite a number of incidents at the plant in the past two decades Pembrokeshire council said it had an "exceptional record of safety".
Pembroke Dock mayor Andrew McNaughton said some risk had to be accepted.
There have been a number of incidents at the refinery since it opened in 1964. The most serious before Thursday evening occurred in July 1996 when 26 workers were slightly injured in an explosion and fire.
In June 2001 a fire was caused by a hydrogen leak, with smoke seen by eyewitnesses rising hundreds of feet into the air, but no-one was injured.
Ch Supt Gwyn Thomas of Dyfed-Powys Police insisted there was no ongoing risk to the public after the latest incident.
John Davies, Pembrokeshire council leader, told BBC Wales that in the 46 years since first Regent then Texaco and now Chevron had operated the plant it had had "a truly remarkable and exceptional record of safety".
"I'm not aware of any lives being lost in similar circumstances with regard to fire and explosion," said Mr Davies. "I think this is the first of its kind.
"Given that they refine the best part of 220,000 barrels of crude a day into refined product I think it's a truly exceptional record. But last night the ultimate price was paid.
"These things tragically happen. But we are prepared for these incidents from time to time."
He added that the council had upheld its responsibility to ensure public safety after the incident.
'Relatively rare'
Chevron has launched its own investigation to run in tandem with the Health and Safety Executive's inquiry into Thursday night's incident.
It happened during routine, planned maintentance.
Julian Lee, senior energy analyst at the Centre for Global Energy Studies, said the plant was an important part of the UK's oil infrastructure with the capacity to process 14% of the UK's annual oil consumption.
"Industrial accidents do happen," said Mr Lee. "Fortunately, given the scale of the oil business and the number of refineries and the amount of oil that they are processing, they are relatively rare. But it is impossible to avoid them entirely."
Andrew McNaughton, mayor of Pembroke Dock, said there had not been a serious accident at the refinery in nearly 20 years.
"You have to accept some risk," he said. "You assume that all accident precautions are taken. You cannot cover all risks for everything... but you can make sure that unavoidable risks are prevented."
Simon Hart, Conservative MP for Carmarthen West and South Pembrokeshire, also praised the plant's safety record.
"It's a really important business but it is a dangerous one and it's had a fantastic safety record," he said. "Credit where credit's due, it's had a long and good record."
He added: "I don't think we should go around dishing out blame until the investigation is over."
Angela Burns, Conservative AM for Carmarthen West and South Pembrokeshire, said the Pembrokeshire area contained several very large companies engaged in oil refining and gas production and that there some very stringent saftey precautions in place.
"This is a very important company within our community," she said. "They contribute millions and millions to our economy every year.
"We have to stand shoulder to shoulder with them, support the familes and keep prodding and poking and make sure that Chevron and other companies like them do have aboslutely the best of best safety standards possible."