15th Century bridge which named Bridgend gets facelift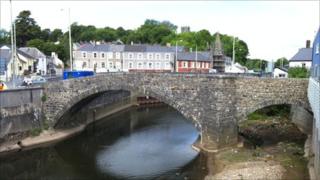 The 15th Century bridge which gives the town of Bridgend its name is receiving a facelift.
Traditional methods are being used to restore the Grade II-listed building and its cobbles so pedestrians can keep using it to get into the town centre.
Pilgrims used the bridge in the centre of Bridgend to cross the river Ogmore on their way to St David's.
It was constructed in 1425 and rebuilt after floods partially destroyed it in 1775.
Now it is in need of sprucing up again, and hundreds of cobble-like pebbles on the historic bridge are being lifted and reset using traditional methods.
Andrew Jones has been trained to reset the cobbles using the same material used when the bridge was constructed.
"We're trying to keep it as original as possible," he said.
"There's a lot of work involved. We're using lime mortar - traditional materials. It takes a lot of time.
"I always take pride in any type of work like this."
The work is being carried out by Bridgend council after being approved by historic monuments agency Cadw.
It is part of a programme to restore historic structures and buildings in the town.
Council cabinet member Alana Davies said: "It's very important. If it wasn't for the bridge, the town probably wouldn't be here.
"It is quite an iconic structure. It represents Bridgend. It gives its name to the town.
"A lot of research has had to go into the materials and methods being used to carry out the repairs due to the historic nature of the bridge."
Milan Dragic, Bridgend's highway works manager, said local materials were used in the original construction.
"Pebbles would have come from the local river, stone would have been from local quarries and lime would have been slaked here to produce the lime mortar," he said.
"Unfortunately lime is not available locally here at the moment but we can get it from mid Wales."
James Thomas, who has been working on the bridge for the last three weeks, said it was a labour of love.
"I've lived in Bridgend all my life and I walked over this bridge with my gran when I was a young kid, so it's great to see it getting some attention," he said.
The repairs are set to last another four weeks, and pedestrians will temporarily have to find a different route to the town centre.