Wembley play-off: Swansea fans issued alcohol warning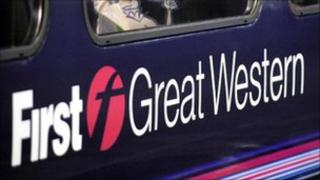 Swansea City fans travelling by train to Wembley for Monday's Championship play-off final have been warned not to take alcohol on board.
First Great Western (FGW) and the British Transport Police say fans risk missing the final if they are caught.
Services between south Wales to London will have an alcohol ban before and after the game meaning no drink can be bought on board either.
FGW is putting on three extra trains before and after the match.
Anyone found flouting the ban could be removed from services.
"Monday promises to be a great day of football for Swansea fans, and our officers will be helping everyone to enjoy it, as well as ensuring fans travel to and from the game safely," said BTP's sector commander for Wales, Ch Insp Sandra England.
"Throughout the day we'll have officers patrolling stations and on trains between south Wales and London and they will not tolerate intimidating or anti-social behaviour from those intent on spoiling the day for others.
"Trains are confined spaces and it can be a very intimidating experience for families and children when they find themselves in a carriage packed with boisterous fans.
She said they wanted fans to have a good time and enjoy the day.
"We appreciate the vast majority are always well-behaved. But we are warning anyone who steps out of line while travelling on the rail network will be dealt with by our officers," she added.
"Not only are they risking a court appearance, they also risk missing out on seeing their club's biggest match for decades.
"I would urge supporters to leave the booze behind, as any alcohol will be confiscated on arrival at the station, and this could result in fans being refused travel by the train operator."
FGW are putting on three extra services to London Paddington which will not stop at Reading, and there will be three extra services after the game.
Straightforward
No more reservations are being taken for any of the services ahead of the game or after it "to assist with the crowd management".
Many fans who will be making the trip by road should not experience problems on the M4 as there are no major roadworks taking place.
Swansea City's travel club have already filled their 76 coaches, taking just under 4,000 supporters.
"We filled all the coaches on Friday and we can't do anymore," said spokesman Ugo Vallerio. "We are all volunteers."
Those travelling to the ground on the London Underground should also experience a straightforward journey as the main lines serving Wembley (Jubilee and Metropolitan) are free of engineering works.