Wembley play-off: Swans fans' 8,000 tickets on day one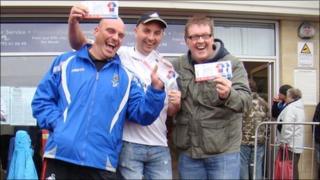 Swansea City has had to cut short queues for the Championship play-off final for the second day running.
More than 8,000 tickets were snapped up when they went on sale on Wednesday with five-hour waits at the Liberty Stadium ticket office.
Fans queued from 0430 BST on Thursday but were stopped from joining it at 1400 BST due to a six-hour wait.
Fans with the current priority purchase are urged to book online or by phone instead for the game on Monday, 30 May.
Fan Brian Miles, who has already bought his ticket, told BBC Radio Wales: "We're a block book of 31 fans who sit together at the Liberty Stadium and we've decided we will replicate our atmosphere at Wembley.
"We're travelling up the day before, we'll spend a quiet night near Wembley Stadium and then we'll get in there early to soak up the atmosphere.
"We've had some bad times. I can remember the Hull game where we nearly went out of the Football League.
"Since then, we've been gaining in momentum and now we're on the brink of something dramatic and I think we will make it into the world's top league."
Swansea have been allocated 39,376 tickets for the match against Reading which will see the winner clinch a place in the Premier League.
The Liberty Stadium ticket office sold 4,853 tickets on the first day while another 3,241 were bought through the designated online and phone facility, bringing the total to 8,094.
Supporters with priority purchase status are urged to use the online booking website www.ticketzone.co.uk or phone line 0844 2491912 instead.Tickets will go on general sale on Saturday.