Llandovery fears over Pantycelyn school site move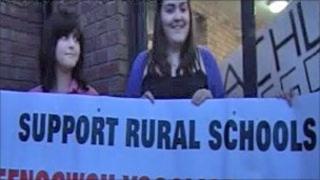 Residents in Llandovery say moving their comprehensive school 15 miles away would hit trade in the town.
Carmarthenshire council plans to build a new £30m school to replace Pantycelyn and Tregib schools in the Tywi Valley.
But people in Llandovery say the proposed location at Ffairfach near Llandeilo is too far away.
The council said it was in the process of consulting on the plans and all views would be taken into account.
It has secured £23.7m from the Welsh Government for the new build and will add £5.9m from its budget.
Pantycelyn Comprehensive is in Llandovery while Tregib is in Ffairfach near Llandeilo - the proposed site for the new school.
About 100 people attended a public meeting at Pantycelyn on Tuesday night with many concerned about the move.
They say the new school should be built at a location between the two towns with a site near Llangadog suggested.
Rachel Evans, director of the Welsh Countryside Alliance, said: "You have to look at the knock on affect here this is going to create by closing this school.
"By building this new school adjacent to Llandeilo it will kill this town.
"The least the county council could do is build the new school, which is inventible I think, closer to Llandovery not miles away in Llandeilo."
The consultation period runs until next month.
Carmarthenshire's education director Rob Sully said: "The meetings form part of our formal consultation process.
"All the views expressed were recorded and will be fed into the ongoing consideration of our proposals."