Beach Break Live festival winning over local opposition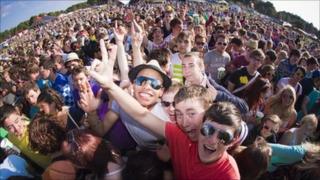 A festival returns to Carmarthenshire facing less opposition than last year despite a near doubling of tickets.
Up to 20,000 youngsters will pack into Pembrey Country Park in June for Beach Break Live headlined by Tinie Tempah and White Lies.
Councillors said while some people still object, they are working with organisers to maximise its benefits.
A study by Bournemouth University found last year's event contributed over £2.4m to the local economy.
Beach Break Live takes place at the council-run park from 16 to 20 June.
Last year there was fierce local opposition to the festival held exclusively for students when it was staged for the first time.
Residents were angry that the park was closed during the event and there were concerns over noise, litter and potential trouble.
Pembrey councillor Hugh Shepherdson said: "There was a lot of opposition and there's still some pockets of opposition again.
"But I think it's a bit more positive from the local side of it.
"This year they've agreed to set up a festival committee and we've been able to have a bit more input into proceedings - not the mechanics of running the thing - but in putting the concerns of the local community."
Coun Shepherdson said the main remaining concern was that the park would be off limits to locals and visitors during the festival week.
Tourism impact
Last year around 12,500 students attended, with police making 14 arrests for drug, theft and public order offences.
But Dyfed-Powys Police said the majority of those arrested were locals rather than festivalgoers.
The park is owned and managed by Carmarthenshire council and its officers hope it will become the permanent home of the festival first held in Cornwall in 2007.
The council receives over £60,000 for use of the park for the week.
Spokesman Ron Cant said at a time when budgets were under pressure it meant the attraction broke even in the last financial year.
Council leader Meryl Gravell said "the most exciting benefit" to Carmarthenshire was the longer term impact on tourism the event could have.
"Introducing young people from across the UK to this area of outstanding natural beauty will inevitably result in people returning on holidays for years to come and there is evidence they already have," she said.
"It is unlikely the cream of Britain's young population would otherwise ever have heard of Pembrey."
Ian Forshew, managing director of Student Seed Ltd, the company behind the festival, said he was pleased with the build-up to this year's event.
"Now the event has proven that it can be run without causing disruption and perhaps most importantly shown the enormous economic benefit to the local area we have found overwhelming support," he added.
"Pembrey Country Park is a perfect venue. How many festivals can boast an eight mile beach or a dry ski slope looking out over the west Wales coast line?"