Carmarthenshire schools: Flood fears over Ffairfach site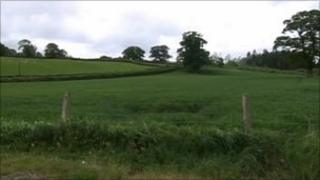 A public meeting is to be held into plans to merge two secondary schools in Carmarthenshire amid claims that the site chosen is prone to flooding.
The Welsh Assembly Government is providing £23.7m towards a new £30m school serving the Towy valley at Ffairfach near Llandeilo.
It will replace nearby Ysgol Tre-Gib and Ysgol Pantycelyn in Llandovery.
Pantycelyn governors would rather see the new school built at Llangadog. The council says views will be considered.
Ysgol Tre-Gib currently has just over 1,000 pupils and Ysgol Pantycelyn more than 300.
Following public consultation on plans to reorganise secondary education in the Dinefwr area Carmarthenshire council has proposed closing the two schools in summer 2012.
A new Dyffryn Tywi school will then operate from the two sites until new premises are completed at Ffairfach by September 2015.
An action group set up to save Ysgol Pantycelyn has claimed its closure would result in the end of secondary state education in Llandovery and have a devastating effect on the local economy if the new school was built near Llandeilo.
Parents and governors at the school say a more equidistant location would be fairer, and voiced their concerns at a series of meetings on Monday.
Dai Dyer, chair of the governors at Ysgol Pantycelyn, said: "The dissatisfaction of the inhabitants, the students, the teachers, the staff and the governors was totally apparent.
"We haven't had answers from Carmarthenshire county council - the site in Llandeilo is acknowledged as a flood plain.
"What we need is a site which is half way between Llandeilo and Llandovery to be fair to all our pupils, present and future."
Rob Sully, Carmarthenshire council's director of education and children's services, said: "The meeting formed part of our formal consultation process.
"All the views expressed were recorded and will be fed into the ongoing consideration of our proposals."
A full public meeting is due to be held at Ysgol Pantycelyn on Tuesday 17 May.