Specsavers billionaire Doug Perkins's eye for wealth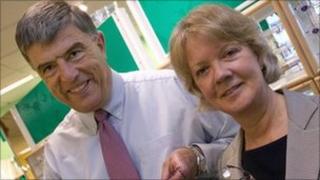 A policeman's son who was born and raised in Carmarthenshire has become Wales' newest billionaire.
Specsavers founder Doug Perkins and his wife Dame Mary rose from 73rd to 56th on the Sunday Times Rich List with an estimated fortune of £1.15bn.
The couple, who live in Guernsey, founded the chain in 1984, and it now has more than 1,500 stores.
Mr Perkins was born in Llanelli and grew-up in Ammanford before studying at Cardiff University.
He joins Terry Matthews as the only two people from Wales worth over £1bn on the Sunday newspaper's list.
Bristol-born Dame Mary becomes Britain's first female self-made billionaire.
The biography provided by his company shows that Mr Perkins was born in Llanelli where he attended Llanelli Boys Grammar School, gaining A-levels in physics, chemistry and zoology.
Historian Terry Norman said the family moved to Ammanford when Mr Perkins's father - a police sergeant - was transferred.
They lived on Wernddu Road in the town for many years.
He said: "As a student in the 1960s he worked for a time in Ammanford bowling alley - the smallest alley in Wales with only two lanes - and spent his early years as an optometrist working in nearby Llanelli and Carmarthen.
"When the bowling alley venture folded after just a couple of years, it reopened as a cabaret club and Doug Perkins was the club's doorman for a while."
He met his wife and business partner when they both studied ophthalmic optics at Cardiff University.
According to his official biography, the couple took over Dame Mary's father's optical business and founded Bebbington and Perkins in Bristol, which they expanded to 23 stores.
International expansion
They sold that business in 1980 and moved to Guernsey.
But following deregulation of the optical profession they founded Specsavers in 1984, first opening stores in Guernsey, Bristol, Plymouth and Swansea.
Today the brand has expanded from the UK to the Netherlands, Sweden, Denmark, Norway, Spain and most recently Australia and New Zealand.
Worldwide there are now more than 1,500 stores.
The company said Mr Perkins now spends most of his time in Australia expanding the business there.
In 2005 he returned to Ammanford to open a branch in his old home town.
He told BBC Wales at the time: "Carmarthenshire is very special to me personally. I think up to the age of about 20 I had barely been outside of west Wales.
"I know the shops in Ammanford, I know the chapels and I know the doctor's surgeries.
"It has not changed a lot and why should it. It's great to be back."