Merthyr Labour candidate Huw Lewis in £10k donation row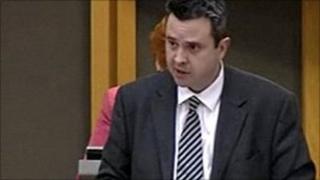 A senior Labour politician has been attacked for accepting a £10,000 donation from a key figure in a controversial opencast mine scheme.
Huw Lewis was given the money towards his bid for the Welsh party leadership in 2009 by Bernard Llewellyn, a leading figure at Miller Argent.
The firm is behind the Ffos-y-Fran mine at Merthyr, where Mr Lewis is standing.
He called the donation "transparent" and said opponents were "mischief-making".
Mr Lewis registered the donation with the Electoral Commission and recorded it in the Assembly's Register of Members' Interests.
He came third in the contest, which was comfortably won by Carwyn Jones.
During the leadership campaign, asked about his position on energy, Mr Lewis told BBC Wales he still wanted coal to be mined but was "less sure about opencast".
The Welsh Liberal Democrat candidate for South Wales East, Veronica German, said: "Far from standing up for the people of Merthyr, Labour's Huw Lewis has been accepting thousands in cash from a key figure in the much disputed and unpopular Ffos-y-Fran opencast mine.
"When people in Merthyr needed a strong voice to stand up for their interests, they found Huw Lewis strangely quiet. The Labour candidate has some serious explaining to do."
Alyson Austin, of Residents against Ffos-y-Fran said: "We have had no support from him at all. We had a job to get him to come out of the Welsh Assembly to receive a petition we had against the development".
Mr Llewellyn told BBC Wales: "I've been a Labour supporter for 30 years. I supported Huw Lewis because he was a good candidate - an excellent candidate in fact.
"The donation was made in a personal capacity, not as part of Miller Argent."
Mr Lewis said in a statement that Mr Llewellyn was a long-standing local Labour Party, has been involved in many election campaigns and had made financial contributions on a number of occasions.
"I have campaigned for better protection against opencast mining since I was first elected to the assembly in 1999 and for opposition parties to suggest otherwise is simply a lie," said Mr Lewis.
"All donations to my leadership campaign were declared properly and transparently with the Electoral Commission and the National Assembly for Wales and have been publically available for almost a year and a half.
"The fact that political opponents have chosen to highlight this in the run-up to the election smacks of political mischief making and people of Merthyr Tydfil & Rhymney will see through it."
Earlier, a spokesman for Mr Lewis' local Labour party in Merthyr Tydfil and Rhymney said he would have been "surprised" if Mr Llewellyn hadn't contributed to Mr Lewis's leadership campaign.
The Ffos-y-Fran development has been highly controversial locally, with some residents mounting legal challenges and expressing concern about its health effects.
Plaid Cymru say Labour as a whole should be clearer about the links between Mr Llewellyn and the party.
'Questions'
Plaid's sustainability spokesperson, Leanne Wood, said: "The Labour Party needs to answer a number of questions that arise from this £10,000 donation.
"Are they prepared to give a detailed account of Bernard Llewellyn's influence within the Labour Party - particularly in the lead up to the decisions made by Labour in government in relation to Ffos-y-Fran?
"I call upon them to disclose all communication between the £10,000 donor and the Labour party, including Labour ministers, over the last 12 years.
"Would they argue that it is appropriate for Huw Lewis, a deputy minister and a Labour AM, to accept such a large donation from a businessman behind some of the most controversial developments in south east Wales?
"I'm sure that the people living around the opencast site will find the news of this £10,000 donation to Labour a very bitter pill to swallow."
Responding, a Welsh Labour spokesperson said: "All donations made to candidates during the Welsh Labour leadership contest met the guidelines set out by the party and the Electoral Commission.
"The process was entirely transparent and all the donations have been a matter of public record for over a year.
"Huw Lewis has been a superb advocate for the people of Merthyr Tydfil and Rhymney for the past 12 years and we are confident that he will be returned again as the next AM.
"Plaid Cymru's baseless smears are symptomatic of their desperate campaign and Huw Lewis' work on tightening up regulations relating to opencast mining in Wales are a matter of public record."
The Welsh Conservatives have also been asked to comment.