Deportation teenager Daniyal Shahzad refused bail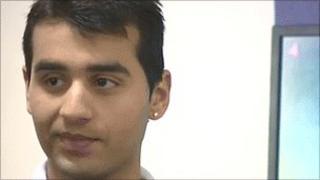 A Pakistani teenager who lied about his identity to gain asylum in Wales has lost an application for bail.
Daniyal Shahzad, 19, had lived in Carmarthen under the false name Ahmer Rana, since 2008.
He was arrested on 30 March and taken to a detention centre in Dover, and his foster parents are concerned he could remain there a long time.
The UK Border Agency said if detainees did not leave the UK voluntarily "we will enforce their removal".
Mr Shahzad originally claimed asylum in the UK at the age of 14, saying his parents were missing, feared dead, and his life was at risk from his father's enemies if he remained in Pakistan.
His story unravelled after supporters presented a 4,000-signature petition against his deportation to the Home Office and he was forced to admit his parents are alive and well.
He said he was under pressure to send money home, and had come to the UK to get a good education.
Several legal challenges to help him stay in the country have failed.
His foster parents had hoped a special hearing on 21 April in London would allow him to be bailed to stay in the UK with them until he completed his A levels.
Mrs Hillard said she was very disappointed he had lost the application for bail.
"I went to the hearing with Daniyal's girlfriend. We could see him on the screen and were just totally flattened by the decision.
"The UK Border Agency argued that he would abscond if he came home to us but he had plenty of chance to do that before and he never did.
'Fundamentally honest'
"Ahmer is very disappointed, especially as at a hearing on the same day, two men who had been detained for 20 and 22 months were granted bail.
"We are really worried he could be there for many months to come, which is just stupid as he would have stayed with us, done his exams and then left voluntarily."
She admitted that he had lied, but said he was fundamentally honest and had become caught up in his story.
She added: "He is coping in the detention centre, but it is not very nice and he has no idea how long he will be there.
"Why pick on such a young man to make an example of him?"
A UK Border Agency spokesperson said: "Where someone is found by the independent courts and the UK Border Agency to have no right to be in the UK, we expect them to leave the UK voluntarily. Where they do not we will enforce their removal.
"Every detention decision is made on a case by case basis and regularly reviewed. Detainees also have the option of applying to an immigration judge for bail, who will independently consider whether this is appropriate."