TripAdvisor names Tenby Wales' best beach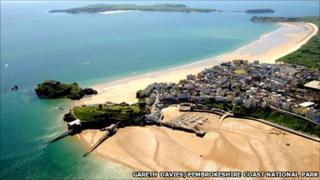 Tenby has been named Wales' top beach and the fifth best in the UK by users of an international travel website.
The winners were based on the most highly rated beaches as reviewed by travellers on TripAdvisor.
Tourism officials in Pembrokeshire said the resort played an important role in the industry.
Meanwhile, the county's 186-mile coastal path has been named the second best in the UK by readers and judges at Coast magazine.
St Ives in Cornwall was named the best beach in the UK in the website's inaugural Travellers' Choice Beach Awards.
Pembrokeshire Coast National Park Authority senior ranger Libby Taylor said: "As well as being special for their acres of golden sand, the beaches of Tenby with their backdrops of cliffs are of special importance for the wildlife they support and their unique geology."
Building conservation officer Rob Scourfield added: "The view of the harbour in Tenby is iconic, with its late Georgian pastel-coloured houses dating from Tenby's early days as a holiday resort . . . providing a spectacular backdrop to its beaches."
TripAdvisor said the awards were based on "millions of real and unbiased reviews and opinions from travellers around the world."
Pembrokeshire's coastal path was named the best in the UK by Coast magazine last year but was beaten into second place by the Norfolk Coast Path National Trail this time around.
But park authority marketing director James Parkin said he was still delighted.
"We know that the path attracts over 900,000 user days each year, providing a fantastic resource for local residents, and attracting walkers from around the world."
"The coast path is one of the key foundations of tourism in Pembrokeshire and makes a significant contribution to the county's economy."