Carmarthenshire Council adds electric cars to pool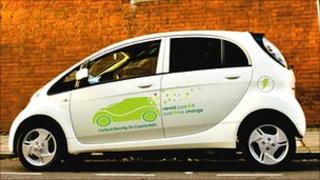 Two electric 'eco-cars' are being used by Carmarthenshire council as part of a strategy to encourage the use of green transport.
The Mitsubishi i-MiEVs will be added to a pool of 70 vehicles used by council staff.
Both £20,000 battery-powered, emission-free cars were paid for with an assembly government grant.
Former Top Gear presenter Quentin Wilson said: "It's a remarkably shrewd purchase on the council's part."
The motoring journalist drove the electric car himself for a year as part of a government trial.
He conceded that the initial cost of the cars "might seem expensive to begin with" but said that the council would save on running costs.
"It was £2 to do 100 hundred miles and I never ran out [of electricity].
Camarthenshire Council said it is the first local authority in Wales to use electric fleet cars.
The vehicles can be charged from any household 240W socket, and take approximately seven hours to fully charge, according to the car's manufacturer.
The council said it believes that running the electric cars would cost only 45p per 100 miles compared with £12 per 100 miles for an equivalent petrol car.
Transport manager Steve Pilliner said the introduction of the cars was part of Carmarthenshire Council's wider environment and transport strategy:
"We will over time be introducing charging points at locations across the county which will be available for public use. It's part of our overall aim to encourage more sustainable forms of transport for work related travel."