Pupils' petition for more Fishguard trains pays off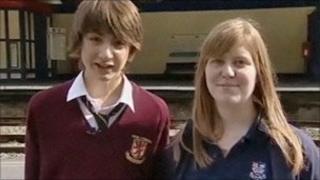 Two school pupils who organised a mass petition calling for more train services to their home town have finally seen their efforts pay off.
Sam Faulkner and Joanne Griffiths were 15 when they added fresh impetus to a long-running campaign for better rail links to Fishguard in Pembrokeshire.
Now the assembly government says there will be an extra five trains from Monday to Saturday each week.
Sam, now aged 17, said he was "over the moon" when he was told.
The school friends from Moylegrove started their campaign because only two trains call at Fishguard, one is at midnight to link up with the ferry to Ireland.
They said it made it difficult for youngsters and others to use the train.
They set up a website and collected 1,440 signatures for their petition which was handed to the Welsh assembly.
Sam said they had received a lot of support from business, individuals and politicians in Pembrokeshire.
Shuttle services
But he admitted he was not sure their efforts would pay off.
"We hoped to raise some awareness," he said.
"People had been fighting for it for a long time and all we were trying to do is get it back in the spotlight again."
When they started their campaign the North Pembrokeshire Transport Forum said five or more shuttle services a day between Carmarthen and Fishguard were among the top rail priorities in the regional transport plan submitted to the assembly government..
On Tuesday the assembly government announced up to £1.4m funding annually to provide the extra services commencing from September.
It said a community consultation on the timetable would begin in April and it would also look at how the additional services would connect with the rest of the rail network east of Carmarthen.
The extra five trains will run in both directions every day between Monday and Saturdays.
A review of the extra services will be carried out after the third year to identify demand and passenger numbers.