Swansea University £15m new campus funding confirmed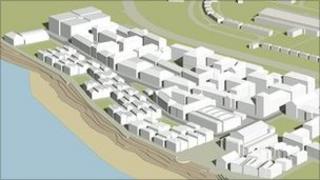 A new science and innovation campus planned by Swansea University will receive £15m assembly government funding, it has been confirmed.
The development is planned over a 69-acre site at Baglan, near Port Talbot.
Oil giant BP, which is backing the scheme, warned in January it was at risk because of delays in confirming the capital funding.
The university vice-chancellor said the assembly government money made the project "financially feasible".
The university estimates the project will contribute more than £3bn to the regional economy over the next 10 years and create thousands of jobs.
Plans include a research and testing facility operated in partnership with Rolls-Royce.
There will also be new teaching and research facilities for the university's engineering, business and economics, maths, and computer science departments as well as student residential accommodation.
Outline planning permission was granted last month.
Vice-chancellor Professor Richard B Davies said: "This is a bold and innovative project.
"It promises to be a global exemplar of universities and industry working together, creating high-technology clusters and hugely enhancing the career opportunities for students.
"We have a number of multi-national companies as partners but a project of this massive scale could not have proceeded without the assistance of the Welsh Assembly Government."
Deputy First Minister Ieuan Wyn Jones said: "For Wales to succeed in the modern economy, academia and businesses must work together.
"The university's research shows the project has the potential to create thousands of jobs for the region and pump millions into the local economy."
He said the funding would be subject to a business case appraisal and the university demonstrating its ability to fund the ongoing operation of the project.