Go Compare star Wynne Evans album classical chart No 1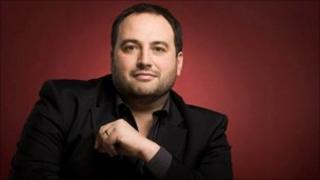 The debut album by the tenor who starred in TV adverts, twice voted the UK's "most irritating", has gone straight to the top of the classical charts.
Wynne Evans, 39, from Carmarthen, who plays a moustachioed opera character in the Go Compare adverts, released his album, A Song in My Heart, last week.
Evans, who signed a six-album deal with Warner, said he was "thrilled".
He studied at the Guildhall School of Music and National Opera Studio.
But he has become a familiar face through his on-screen portrayal of "Gio Compario" in the series of adverts.
Now living in Cardiff, he has performed with the Welsh National Opera and has sung the national anthem at Wales rugby internationals.
He said his 16-track album was inspired by Mario Lanza.
He said: "I've been on the opera scene for over 15 years and this is definitely one of the most amazing moments of my career."
On Friday, a documentary on Welsh-language television channel S4C examines his singing career, which began at the Lyric Theatre.
He is also back home to perform at Carmarthen's Lyric Theatre on Mothering Sunday next weekend, where his late mother Elizabeth founded Carmarthen Youth Opera and helped save the theatre.