Pembroke Dock Gun Tower Museum hit by water damage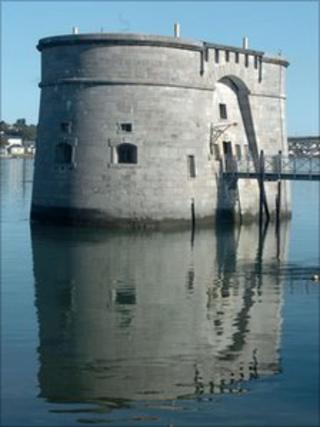 A museum in Pembrokeshire will remain closed over Easter after suffering extensive water damage during the winter.
Work is needed to The Gun Tower Museum, which charts the industrial and military history of Pembroke Dock, before visitors can enter.
Built in 1851, the fortification is a landmark in the town.
Museum Trust directors said they would revamp the displays while it was shut and would unveil the new look in 2012.
Spokesman Martin Cavaney said: "Severe winter weather has taken a heavy toll of the Victorian building which is suffering from extensive water penetration.
""We are working closely with Pembrokeshire council, which owns the tower, to solve the problems and we are also taking the opportunity to revamp the displays and themes for when we re-open."
The museum tells the story of the town and its Royal dockyard.
Shipbuilders in Pembroke constructed 263 vessels for the Royal Navy including battleships and the Royal Yachts Victoria and Albert I, II and III.
Mr Cavaney said although the Gun Tower Museum would be closed until the work was completed the new Flying Boat Centre would be open.
Pembroke Dock was once the largest flying boat station in the world with 99 Sunderland Flying Boats stationed there.
The centre, which includes parts from one of the machines, tells the story they played in World War II and their key role in the Battle of the Atlantic.