Bonnie Tyler becomes freeman of Neath Port Talbot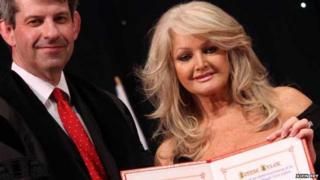 She may have started her chart career by getting Lost in France, but Bonnie Tyler knows she will always find a home in her native Neath.
And never more so than now, as she has become a freeman of Neath Port Talbot.
The singer, whose hits also include Total Eclipse of the Heart and It's a Heartache, is only the second woman to get the freedom of the borough.
Tyler, who was born Gaynor Hopkins 59 years ago, hoped she could "live up to the honour and trust placed in me".
She said: "Who would have thought that a simple girl from a simple family in Skewen would be honoured like this?"
The county said it nominated her for her "lifelong worldwide contribution in the field of entertainment", and as a "well known ambassador for Neath Port Talbot".
Council leader Ali Thomas said: "Being granted the freedom of the county borough is the highest honour to be bestowed on any individual.
"Bonnie has consistently been one of Britain's top female artists achieving international success for 35 years.
"I knew her father well, having worked in the same mine as him, and he was a proper gentleman."
After Lost in France became her first hit in 1976, Tyler's chart success peaked in the 1980s with albums such as Faster Than the Speed of Night and singles like Holding Out for a Hero.
In 2009 she teamed up with Only Men Aloud, the winners of the BBC's Last Choir Standing contest, to re-record her biggest hit, Total Eclipse of The Heart.
The song appeared on Only Men Aloud's second album, Band of Brothers, which went to the top of the classical charts.