Chevron and Valero's deal to buy Pembroke oil refinery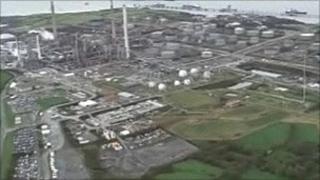 Chevron has found a buyer for its oil refinery in Pembrokeshire that employs about 1,400 people.
The US-based company said it had reached an agreement with Valero.
There are hopes the deal will secure the long-term future of the refinery in Pembroke, which is worth an estimated £1.5m a week to the county's economy.
Valero, which will also acquire Chevron's marketing and logistics assets in the UK and Ireland, said it intended to retain all staff.
The Chevron plant had been on the market for a year, and Valero said it agreed to pay $730m (£456m) for the refinery and $1b (£625m) for the assets.
Chairman and chief operating officer Bill Klesse said: "The Pembroke refinery remained profitable and cash-flow positive even during the depths of the economic downturn in 2009."
Welsh Secretary Cheryl Gillan said: "This is fantastic news and will hopefully secure the long term future of the refinery in Pembrokeshire.
"I have spoken to Chevron and was pleased to have assurances for the future of the refinery and its workforce. I will be speaking to Valero shortly and will be highlighting the important role the refinery plays in the regional and national economy."
Pembrokeshire council deputy leader John Allen-Mirehouse said the authority would seek a meeting as soon as possible with Valero.
"We welcome the end to the uncertainty for the employees following today's announcement... it has been a difficult 12 months for all of them," he added.
"The Pembroke refinery is crucial to the economy of Pembrokeshire and makes a massive contribution to the Welsh and UK economy as well."
'Secure stable future'
Deputy First Minister and Economy Minister Ieuan Wyn Jones said: "We are now awaiting further details of this bid. I have spoken to Chevron today and have requested a meeting with Valero to discuss their plans and to seek assurances about future employment and investment at the site.
"The energy sector plays a key role, not only in the economy of west Wales but in the country as a whole, so we want to see a secure, stable future for the refinery.‬‪"
The Chevron plant is one of two refineries in Pembrokeshire currently up for sale.
The other, Murco's refinery in Milford Haven, employs around 370.
Earlier, Carmarthen West and South Pembrokeshire MP Simon Hart said he hoped a deal would safeguard jobs at the site.
"There has been some concern that if they were sold they might be down sized and there might be significant job losses," he added.
"If this is going to be the first step to on-going refining activity along the lines that's currently undertaken by Chevron at the moment, a number of people who continue to have big concerns will be able to think, perhaps, there is a future here."