Go Compare star Wynne Evans postpones Carmarthen show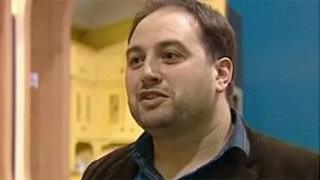 Tenor Wynne Evans - the star of the Go Compare adverts - has postponed a homecoming concert due to a chest infection.
The tenor found fame in the guise of the moustache-wearing Gio Compario.
He was due to sing at a special charity show in Carmarthen on Tuesday to launch his new album, A Song in My Heart.
The concert at the Lyric Theatre was due to be filmed by S4C and broadcast on Mother's Day.
He has sung the national anthem for Wales international rugby clashes and is a regular performer with the Welsh National Opera.
He has become a familiar face through his advertising role, and in a recent survey the adverts were voted "most irritating" of 2010, landing the dubious honour for the second year in a row.
The concert line-up featured Rebecca Evans, Mark Evans, Christopher Jacobsen, Owain Llyr Williams, Rhys Meilyr Jones, Cerddorfa Siambr Cymru and Côr Caerdydd.
Mr Evans said: "Both Rebecca Evans and I have chest infections so Tuesday will be postponed for a week or so. Sorry."