PCS union protest at Swansea tax office cut in hours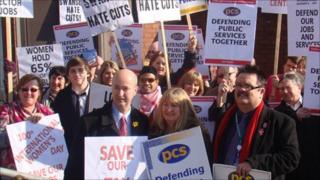 Staff at Swansea's tax office have protested outside the building over what they claim are "drastic" reductions to frontline services.
Union leaders say from May the Swansea office will be open to the public only three days a week and the Llanelli office two days, both cut from five.
HM Revue and Customs (HMRC) said many more people were using the phone or internet to contact its offices.
It said it was still consulting on the changes and no decision had been taken.
The Public and Commercial Services (PCS) Union said many people preferred and valued face to face advice.
West Wales PCS spokesman Steve Donoghue said: "Enquiry centre users often travel miles to visit the office... we are worried that when they get here they will find it closed.
"We are also concerned that with opening times reduced, customers may have to wait some time for an appointment.
"Many of these people rely on tax credits or are pensioners and cannot afford to wait or spend more to get here."
Final decision
He said more than 300 HMRC posts had been cut in west Wales in the last seven years and staff were already struggling with workloads.
A HMRC spokeswoman said: "Fewer customers are using our face to face service at inquiry centres as our customers increasingly use our telephone and online services.
"However we are very much aware that there are customers who need face to face support to pay what they owe and claim what is due, and we will continue to offer an inquiry centre service to meet that need.
"A final decision on opening hours at Swansea and Llanelli will be taken when the consultation ends in March."