250 jobs going at Companies House in Cardiff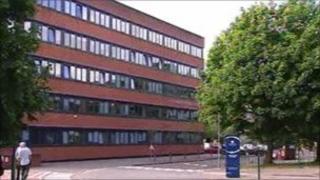 Up to 250 jobs are going at a UK government agency based in Cardiff, it has been confirmed.
Companies House said around 85 staff will leave within a year with the rest of the posts phased out.
The agency which registers businesses employs 1,100 - about 800 in Cardiff and 290 in Nantgarw, Rhondda Cynon Taf.
Plaid Cymru's Leanne Wood said it was "devastating news" for staff who had already agreed to make changes to avoid compulsory redundancies.
Managers said they hoped to avoid compulsory redundancies while union leaders said they deplored the scale of the cutbacks.
The Public and Commercial Services (PCS) Union said some of the job losses related to efficiency savings following moves to make companies file their documents online.
Others are HR, finance, IT and procurement posts that are being centralised as part of a wider civil service review.
'Deplore'
PCS Companies House branch chairman Mike Crimmins said the union was determined to avoid compulsory redundancies.
He said the job losses could jeopardise the organisation's ability to function properly and would put "intolerable pressure" on the staff who remained.
"It is not at all clear that the efficiencies generated by electronic filing of company documents can justify cuts on the scale being proposed," he added.
Mr Crimmins said the losses at Companies House followed other large scale public sector cutbacks at the Newport Passport Office and the Driving Standards Agency in Cardiff.
"We deplore the policy of cutting further good quality jobs in economically deprived areas like south Wales," he added.
Companies House said between 200 to 250 posts would go.
It said staff would be offered voluntary redundancy and early retirement.
A statement said: "We realise that this will make it a challenging year for staff and we will be doing all we can to work with them and the trade union to provided effective support and guidance at this time."
Ms Wood, the South Wales Central AM, said: "For the second time in less than a year, staff at Companies House face yet more uncertainty over their future.
"I know from my work with the PCS Union that these are skilled and high paid jobs and the South Wales economy can ill-afford to be losing roles of this calibre."
Labour's shadow Wales Office minister Owen Smith MP commented: "I don't know whether this government is deliberately targeting Wales or if they are simply so distant from our communities and so disinterested in Wales that they just don't know the damage they are causing."
The Pontypridd MP added: "This latest reckless cut takes us past the 1,000 mark for public sector job losses.
"We believe in community in Wales and we know we need to keep people in work to let those communities thrive."