Swansea clergy in Chilean honour for Bells of Santiago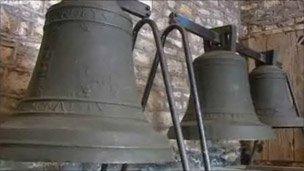 Two Welsh clergymen will receive one of Chile's highest honours for their part in returning a set of historic bells there.
The Bells of Santiago were transported across the Atlantic from All Saints Church in Mumbles last year.
The Chilean Ambassador to the UK, Tomas Muller Sproat, will attend a service at the church near Swansea later.
Vicar Keith Evans and Bishop of Swansea & Brecon John Davies will receive the order of Bernardo O'Higgins.
It is the highest honour Chile can bestow on foreign citizens.
Bishop John said the Chilean government was extremely grateful that the bells were returned.
They were brought to Swansea 150 years ago after the Jesuit Cathedral of La Campania, where they were originally housed, burned down killing 2,500 people.
Last year the Chilean government wrote to the congregation at All Saints in Oystermouth asking if the three bells could be returned to South America.
Bishop John said: "We are obviously delighted to be receiving the honour but we are receiving it on behalf of the parish and the Diocese of Swansea and Brecon.
"The purpose of the visit from the ambassador is to thank the people of Oystermouth and the parishioners."
The three bells were returned in September to coincided with Chile's bicentennial celebration of independence.
Canon Evans said: "The bells are a source of national pride in Chile and there was a lot of newspaper articles and television coverage of the bells when they returned home.
"People there were particularly touched that the story of the bells was better known in Mumbles than it was in Santiago.
"We would hold special prayers in All Saints' on the anniversary of the disaster.
"I am humbled by the honour and we will accept it on behalf of the generous people of Mumbles."
Related Internet Links
The BBC is not responsible for the content of external sites.