BBC Proms in the Park moving from Swansea to Caerphilly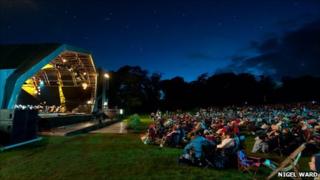 The BBC's annual Proms in the Park is moving to Caerphilly after being staged for the last eight years in Swansea.
The outdoor classical concert that forms part of the Last Night of the Proms celebrations will be held against the backdrop of Caerphilly Castle.
Caerphilly council said it was "delighted" to host the event that would bring visitors to the area.
But Swansea council leader Chris Holley said he was "bitterly disappointed" it would not be returning to the city.
Proms in the Park concerts are held in Wales, Scotland, England and Northern Ireland on the final night of the BBC's Proms season.
Full details of this year's last night concerts on 10 September are being unveiled in April but the BBC confirmed the Welsh event will be staged in Caerphilly.
A BBC Wales spokesperson said: "The event is all about bringing an ambitious live concert to outdoor public spaces, bringing live music closer to people who might not otherwise experience it.
"Each year we look at potential locations for a number of key events and we receive keen interest from all across Wales.
"We have enjoyed many years of close partnership with Swansea council, but it's time to move on to share some of the magic with new audiences."
"Baffling" decision
Caerphilly council leader Lindsay Whittle said: "We are honoured to get the opportunity to host this prestigious event, which has become a major fixture in the Welsh musical calendar."
Mr Whittle said Caerphilly Castle would provide a "breathtaking backdrop for the performance."
"We know visitors to the area will also get the chance to see the wealth of attractions we have to offer within Caerphilly county borough," he added.
But Chris Holley, his counterpart in Swansea, said the decision was "baffling" as it had been staged in the city's Singleton Park "very successfully."
"It's a bit of a kick in the teeth to be honest," he said.
"We worked well with the BBC over the past nine years or so so were a little bit surprised when told it was going to Caerphilly."