Caldey Island monks plan red squirrel revival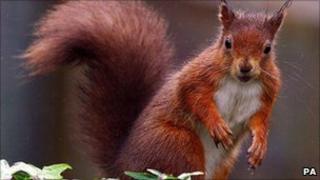 Monks are hoping to re-introduce red squirrels to the island of Caldey, off the Pembrokeshire coast.
UK government ministers have backed the idea after being told about it by local MP Simon Hart.
Red squirrels have declined in recent years due, in part, to competition from grey squirrels and they are only found at a handful of sites in Wales.
Caldey Island near Tenby is home to a small community of Cistercian monks who farm the land.
Carmarthen West and South Pembrokeshire MP Mr Hart said the island was a "perfect" location to re-introduce red squirrels.
He told BBC Wales: "It's primarily run as an environmentally friendly farm by the abbot.
"It does not have predators - there are no grey squirrels, no foxes, it does not have some of the problems other areas have where they are trying to re-introduce red squirrels."
He said he raised the issue in the House of Commons to highlight support for the project.
"It's one of those rare things where everybody agrees it's a good idea," he added.
He said the next step was to ensure there was sufficient habitat for red squirrels.
If not then it would be created through careful management of the island, he added.
Conservation plan
The main red squirrel populations in Wales are on Anglesey and the Clocaenog Forest in north Wales, and in the forests around the Tywi valley in mid Wales.
Last year Environment Minister Jane Davidson introduced a conservation plan to help save red squirrels from extinction in Wales.
Competition from grey squirrels, the spread of disease and, to a lesser extent, habitat loss have been factors in the decline.
During questions in the Commons Mr Hart asked ministers to "offer help and support to the monks... in their attempt to reintroduce the red squirrel to their island".
Defra minister Richard Benyon replied: "Can I applaud them and their member of parliament for their support for this scheme.
"I know they, like me, are looking at what has happened in Anglesey and the eradication of grey squirrels there, which is almost achieved, and the benefits that will have for the regeneration of the red squirrel."