Stores face abandoned trolley fine in Carmarthenshire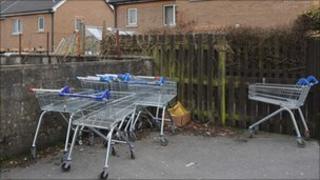 A council is to start fining supermarkets and stores £25 for every abandoned shopping trolley it recovers.
Carmarthenshire council said it currently collects around 100 every month from streets, parks and rivers.
It said it hoped the charge would encourage stores to ensure customers did not walk off with them.
One of the areas targeted is the Ffynnon Las Estate in Ammanford where it found more than 20 trolleys left in cul-de-sacs and outside homes.
Environment executive board member Philip Hughes said he had taken the decision to allow officers to trace owners and charge them.
It would cover the cost of recovery and storage.
Some other councils in Wales and England already operate similar fines - Wrexham council has been charging £60 for each trolley recovered since April.
Mr Hughes said: "When abandoned, these trolleys have a negative effect on the quality of the local environment, and trolleys abandoned in water courses have the further potential to cause blockages which result in a significant flooding risk.
"This is not action against the stores.
"We want to work with them to prevent the risk of damage to people, property and the environment by creating a better trolley management system."