'Closest sighting yet' of big cat in Pembrokeshire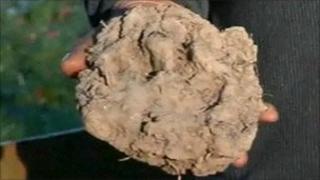 A former police officer has described his close encounter with what he believes is a puma or panther roaming wild in Pembrokeshire.
Michael Disney said the animal passed just in front of his car near the village of Treffgarne on Wednesday.
He said he was "100% certain" it was a "puma or panther-like animal."
The council called it "the closest anyone has been to a big cat" and "further proof" that they are roaming the county.
The police and the Welsh Assembly Government have been informed.
Mr Disney, who now works for Pembrokeshire's public protection division, said the encounter took place in broad daylight.
In a statement that has been passed to police he said he was travelling about 10 - 15 mph on a single-track lane when the animal crossed 5m in front of his car.
"I immediately stopped my vehicle and stared at this animal," he said.
"It had a large cat-like head, muscular build and was approximately three feet tall.
"It was bigger and more muscular than a German Shepherd dog. The coat was smooth and looked like it had brown spots on it.
"I had a clear, unobstructed view of the animal and the visibility was excellent.
"The animal was in my view for fully five to six seconds, the time it took to cover the width of the road and then disappear into the undergrowth at the side.
'Roaming free'
"I am 100% certain that this was a puma or panther-like animal and was definitely not a dog, cat or any other domestic animal.
"It was not something I had seen before other than in a zoo."
Mr Disney said his initial concern was for the safety of the public so he drove to a nearby farm and spoke to the owner who said she had seen a large puma-like animal near her farm a few weeks earlier.
Chief Insp Steve Matchett of Dyfed-Powys Police said: "We are aware of a possible big cat sighting in the Treffgarne area of north Pembrokeshire.
"While the public should not be alarmed by this latest possible sighting, we would urge anyone who does see what they think might be a big cat not to approach the animal, and to stay a safe distance away from it."
It is the latest in a line of big cat sightings in Pembrokeshire.
The last publicised incident was in November when the carcass of a sheep was reported to bear the hallmarks of a big cat kill.
Pembrokeshire council's head of public protection, Mark Elliott, said the latest sighting was the "most definitive yet."
"We believe this is the closest anyone has been to a big cat in the wild and is further proof that there is a least one large animal roaming free in Pembrokeshire" he added.