Toad road signs in Burry Port and Ammanford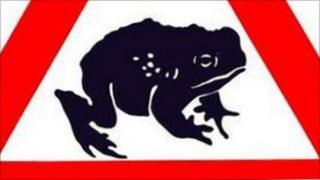 Warning signs have been installed on two Carmarthenshire roads to help toads looking for love to cross in safety.
The roads at Burry Port and Ammanford bisect areas registered as important migration sites.
So Carmarthenshire council put up the signs warning motorists to drive carefully as hundreds of the creatures cross every spring.
Each year volunteers collect the toads in buckets to help them across the highway en route to breeding ponds.
But they cannot always be on hand around the clock to help the common toad, which was listed as a threatened species in 2007.
So important sites are being registered with national wildlife charity Froglife as part of its Toads on the Roads mapping scheme and signs erected to help publicise migration routes.
Froglife has mapped more than 700 crossings using satellite technology, via website Google Earth, including active routes staffed by volunteers in Wrexham, Ceredigion, Powys, Neath Port Talbot and Newport.
Conservationists hope to use the data to learn more about toads' migration routes and any problems encountered crossing roads during their breeding season in spring.
"We already have an otter crossing built into a new industrial development site at Burry Port and now will have toad crossing warning signs too," said Carmarthenshire councillor Philip Hughes, executive board member for transport services.
"It just goes to show how far we go in the county to protect our biodiversity."
The two Carmarthenshire crossings are among 43 toad crossings being introduced nationwide this year.