Pembroke and Pembroke Dock receive £3.2m heritage boost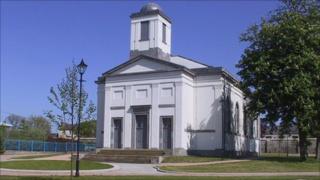 A restored classical Georgian church and a former temperance hall are among projects to benefit from £3.2m funding for two Pembrokeshire towns.
The assembly government has allocated the money to help revitalise Pembroke and Pembroke Dock.
The aim is to improve facilities and restore the area's heritage.
Projects include an extension for new facilities to the Grade II Garrison Chapel and a make over for the Pater Community Hall.
The county council's EU-backed Haven Towns Regeneration Scheme aims to make them more attractive to investors, shoppers and visitors.
The Garrison Chapel, which has been completely refurbished externally, dates back to 1830 and is thought to be the only surviving classical Georgian Chapel in Wales.
There are plans to turn it into a heritage centre with specific focus on the areas military history.
The new money will pay for an extension to house toilets and meeting rooms as well as installing heating so it can be brought back into full use.
Pater Hall, built as a temperance hall in the 19th Century, is now used for meetings, conferences, training, entertainment, functions and other community uses.
It will see a new box office in the lobby with refurbished toilets and a new kitchen to serve the main hall.
Cycle route
Don Esmond, chairman of the Pater Hall Trust, said they were delighted.
"This will enable us to bring the building into the 21st Century," he added.
As well as refurbishments to key historic buildings, there will be a new route for pedestrians and cyclists travelling between Monkton and Pembroke town centre.
The investment was announced by Deputy First Minister, Ieuan Wyn Jones, on a visit to the area.
"I am pleased that we are able to make good use of EU funding to create economic opportunities for both communities and businesses in the region," he said.
"It is an important strand of our economic renewal strategy to develop our business environment and make Wales a more attractive place for communities, investors and visitors."
Pembrokeshire council deputy leader John Allen-Mirehouse said: "This funding boost will do much to reinvigorate the towns, to give them a new lease of life and help them to adapt to the challenges that lie ahead."
Funding for the scheme will also come from The Pater Hall Community Trust, private sources and Pembrokeshire council.