Liberty Stadium appeal for missing Swans fan from Neath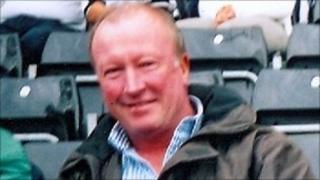 Posters of a missing Neath businessman have been put up around Swansea's Liberty Stadium to try to trace the football season ticket holder.
Police said they were increasingly concerned for the safety of Jeff Trick.
The 57-year-old from Bryncoch has not been seen for two weeks and his family say the disappearance is totally out of character.
Mr Trick is a well-known businessman but officers said their inquiries have so far drawn a blank.
The posters have been around the stadium and also in the Neath area.
Mr Trick was last seen at about 1700 GMT on Tuesday 4 January and reported missing the following day.
His parents Jack and Margaret said: "We are very worried about Jeff and we just want to know he is safe and well.
"It has been a fortnight since we last saw him. This is completely out of character and we have no idea why he has gone missing or where he could be.
"If anyone has seen or heard from him or knows where he is then please contact the police."
Mr Trick is described as white with brown/grey hair. He was last seen wearing his usual works clothes, of a shirt and tie, dark trousers and a blue fleece jacket.
Police have carried out searches around his home address in Bryncoch.
Det Chf Insp Simon Davies said: "The disappearance of Jeff Trick is being treated as unexplained. Neither his family nor the police know of any reason for him to go missing.
"I would appeal to anyone who knows of his whereabouts to contact the police as his family and friends are very worried about him."
Contact South Wales Police on 101 or Crimestoppers anonymously on 0800 555111.