Pembrokeshire and Carmarthenshire set for solar parks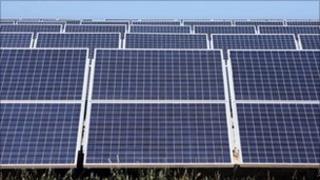 The Welsh Local Government Association (WLGA) expects a rise in applications for solar parks across Wales.
Pembrokeshire has become the first council to grant permission for thousands of solar panels to be sited in the north of the county.
Similar schemes are planned at two sites in Carmarthenshire - Ffos Las horse racing course and the former Cynheidre Colliery near Five Roads.
The parks are made up of rows and rows of individual ultra sensitive panels.
To encourage low carbon electricity generation schemes to feed in to the National Grid, the UK Government currently pays operators a subsidy guaranteed for 25 years.
Several parks have already been approved in England.
Western Solar Ltd has been granted permission to site around 10,000 panels on land close to Rhos-Y-Gilwen Mansion, a country retreat near Cardigan.
Another company, Entec, acting as an agent for developers, has submitted two applications to Carmarthenshire council.
The company said it had chosen Ffos Las and Cynheidre as they are well positioned and well screened from surrounding areas.
Project manager David Kenyon said the two proposed parks would generate up to 5MW and 3MW of power respectively which he said was equivalent to meeting the energy needs of well over 1,000 homes annually.
He said once operational "the technology generates no emissions."
"Both sites also benefit from a close proximity to the National Grid and they will not require the erection of overhead lines to the connection points," he added.
Entec will hold an information session for residents at Tumble on 27 January.
Councillor John Davies, leader of Pembrokeshire council, said he was pleased the county had passed the Western Solar application.
Mr Davies, who is also leader of the WLGA, said he expected more bids throughout Wales to follow.
'Reluctance and resistance'
"It seems there is an increasing appetite to what has been created, I expect, by the new tariffs," he said.
"The mood music suggests to us there is a considerable increase in what we call pre-application interest."
He said it may be the case they prove less controversial than wind turbines although the Council For The Protection Of Rural England has raised concerns about the impact of solar parks there.
Mr Davies said: "I think time will tell whether solar energy will express itself in more favourable terms as far as public acceptance [is concerned].
"We all know the reluctance and resistance there seems to be . . . [to] wind energy.
"Most of that is to do with visual impact but at the same time we need a balanced diet as far as renewable energy is concerned."