Start date for Llanelli cinema and hotel development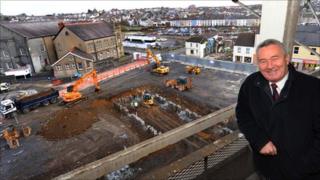 Work is set to start on a £15m retail, hotel and cinema development in Llanelli before the end of March.
Carmarthenshire council's executive board has given the final go ahead for the Eastern Gateway although it must go before full council first.
It includes a 53-bedroom Travel Lodge, six-screen Reel cinema, pubs and restaurants, office space, shops, car park and a new civic square.
Developers Henry Davidson Ltd said it would take around two years to build.
Plans to develop the area date back over a decade.
The whole of Upper Park Street was demolished while the council has also bought surrounding properties to clear the site.
It says an estimated £60m will be spent on the town centre in the next two years with a new theatre complex, repairs to the library and restoration of the Grade II-listed Llanelly House also funded.
Executive board member for regeneration Clive Scourfield said: "Carmarthenshire is leading the way across the UK in these economically constrained times.
"The Carmarthen St Catherine's scheme was uniquely the only town centre development completed nationwide in 2010 and now Llanelli's development is likely to be one of few launched in 2011.
"It shows a huge commitment by the council and confidence in the Authority by the developers that they are prepared to back these schemes."