Dyfed-Powys Police sergeant's drowning woman rescue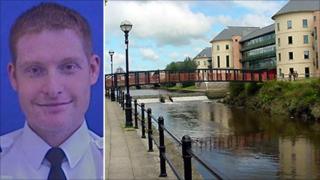 A police sergeant who dived into a fast-flowing river at night to save a drowning 19-year-old woman in Haverfordwest has been praised.
Rhys Evans and fellow officers were called to the River Cleddau near County Hall early on Sunday.
The woman had fallen down a weir and was being dragged down river when he swam out to rescue her.
Ch Supt Dean Richards said that without the officer's bravery the woman would probably have drowned.
The alarm was raised at 0155 GMT.
When officers reached the scene the woman had disappeared under the surface of the water after falling down the weir.
When she eventually resurfaced police said she was dragged by strong currents around 350 metres down river on her back.
Officers ran along a footpath and threw lifelines to her but she was unable to reach them.
Sgt Evans said: "As the female approached the Freemans Way Bridge I realised if she continued down the river it would become impossible to follow her from the river bank and she would most likely drown.
"So I entered the water and swam across to her. I managed to take hold of her and swim to the opposite bank."
He said with the assistance of colleagues and a street pastor he was able to lift her out of the water and up a steep bank.
The woman, who was in the water for about 10 minutes, was taken by ambulance to Withybush Hospital where her condition was described as stable.
"Courage and determination"
Sgt Evans added: "The strong under currents in the river and the climb up the steep bank with the casualty left me absolutely exhausted, cold and wet.
"After the rescue when the adrenaline began to wear off I was unable to speak or think clearly and could hardly walk."
But following a shower, change of uniform and a cup of tea he completed the rest of his shift.
Ch Supt Richards said: "I'm extremely proud of the way all our officers responded, in particular the courage and determination demonstrated by Sgt Evans who risked his own life to save a vulnerable woman.
"The water was deep with an extremely strong current. It was very cold and dark.
He said there was no escaping the fact that if the officer "had not gone into the river and rescued the female she would most likely not have survived."